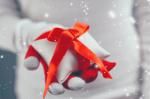 At the STŘÍBRNÉ VÁNOČNÍ DNY Trade Fair you will be able to choose from more than six thousand gifts of various types. You can look forward to gift goods, toys, fashion, decorations, household appliances or food and beverages. The trade fair will be held from 8 to 11 December 2016 at the PVA EXPO PRAGUE Exhibition Centre in Letňany.
More than six thousand gifts from various areas will be prepared.
At the STŘÍBRNÉ VÁNOČNÍ DNY Trade Fair we have prepared thousands of tips for Christmas gifts of all types for you. The trade fair will offer four special zones, namely the FASHION ZONE, CZECH MARKETPLACE, SPORTS AND EXPERIENCE ZONE and CHRISTMAS FEAST. In the FASHION ZONE it will be possible to see presentations of sixty independent stylers and designers, who are to offer there original fashion, jewels and accessories. Within the framework of the CZECH MARKETPLACE, visitors can see fifty art craftsmen and folk creators who are to present their manual production of decorative and useful objects made of ceramics, glass, wood, plants, paper and textiles. Manual production of candles and soaps of untraditional shapes will not be missing either. The CHRISTMAS FEAST zone will offer delicatessen and gourmet specialties with various tasting events. At the STŘÍBRNÉ VÁNOČNÍ DNY Trade Fair you can look forward also to competitions for prizes, such as the competition for THE MOST BEAUTIFUL CHRISTMAS TREE or for the TABLE SET UP IN THE MOST BEAUTIFUL WAY.